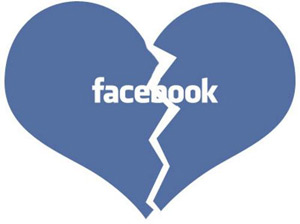 Reports of Facebook creating serious controversy within marriages have been rising recently.
Some of the nation's top divorce lawyers were surveyed and when the results came back the news was astonishing. These lawyers were seeing more of their clients enter the courtroom with evidence all from Facebook.
Divorce attorney Mary Cay Trace was quoted for saying "More and more I have clients coming in and I say, 'What are you here today?' And they say, 'Facebook.' You can now search beyond your neighbors and your co-workers if you're trying to find somebody to replace what you think is missing in your marriage."
In one report a wife with 2 children shared some touching love letters that had been posted back and forth between her husband of 13 years and her husband's old girlfriend from school. Shortly after that the wife's husband and the old school girlfriend ended their marriages, which both involved children.
Joyce Evans, a reporter for Fox 29, said "It's not always the betrayed spouse who stumbles across the Internet evidence. Even worse, it's friends, neighbors and sometimes the children who bust their parent."
Using a platform like Facebook to find an old flame and ruin your marriage is ridiculous. Both of these marriages involved children, which mean one day the kids are going to hear the story of how and why their parents broke up.
What kind of story is that? A terrible one. If things don't work out in a relationship because the two people have different interests or have simply grown apart that's one thing. To actively search Facebook for something that might make you feel young again for a moment is awful.
As lame as the whole Facebook movement is you can't blame the platform for the way people use it. Unfortunately it could be and has proven to be a wonderful place to reconnect with old friends but it's also been a place that has ruined marriages and relationships.