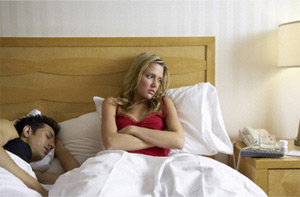 One of the most common issues for men in bed is Premature Ejaculation, which is when a man climaxes before the girl he is engaging in sexual intercourse with even comes close. It's one of the most humiliating occurrences in existence and leaves many men ashamed of themselves. Some people actually resort to avoiding sex simply because they don't know how to control ejaculation.
Despite what you may think, you're just another statistic. Up to 40% of men in the world have Premature Ejaculation problems, so plenty of people know exactly how you feel. There is a way to beat it, and you're about to learn the basics. Some of the best ways to last longer in bed are self-evident, such as avoiding visualizations that lead up to your climax. Soon enough you'll be one of the 60% of men who actually do know how to last longer in bed.
#1. Intellectual supremacy will give you an advantage over your Premature Ejaculation issue. What that means is that if you think about the whole situation too much then you're bound to climax within an extremely short period of time. Simply don't think about how you're sleeping with a woman, make it your goal to be able to please her.
#2. Only you truly know what makes you climax, if you can learn to avoid that then you're in the clear. Technically hormones are the culprits behind every orgasm, so what you are really doing when you avoid climaxing is controlling your hormones. If it makes it easier, you could think of it as a science: merely pretend as if you are conducting an experiment and you are the subject.
#3. Some people claim that masturbating frequently helps them stay in the game, but honestly it doesn't work for everyone. It especially doesn't work when you masturbate for mere minutes and then explode, that will only hurt your cause. If you truly enjoy jerking off then instead of trying to cum as soon as you possibly can, stop every time you feel close to your climax, wait 20 seconds and then repeat the process for about 30 minutes. That method should increase your stamina significantly.
#4. One of the best ways to last longer in bed is to gain complete control over your body during intercourse. I'm sure you know what I mean by that. So many guys get carried away in bed and don't know when to slow it down just by a notch, which can actually cause Premature Ejaculation for men who don't normally experience that problem at all. So next time you realize that you're body is taking over, slow it down a bit.
#5. Although most of your climax is controlled mentally, some of it is about the muscles. If you have a woman ride you on top then penile sensitivity and anxiety performance is greatly reduced. Naturally that means that you have a better chance of lasting longer in bed.
The bottom line is that those highly acclaimed pills, creams and other Premature Ejaculation cures never work. It's all about training your body and mind alike, if you can learn how to ride a bike as a kid then why can't you learn how to control ejaculation? The truth is that you can, it just takes a little bit of effort and a lot of commitment.